Happy heavy hungry hunnies and feeding fatties flaunting flab
Positive affirmations go a long way in healing one's inhibitions. If you find your fattitude on the wane try these fattitude building cheers! Feast your eys on these flabulous flabby females full of feisty fattitude.
Cheer number one.
Waddle to the left. Waddle to the right. Eat all day and eat all night.
Cheer number two.
2 4 6 8 We do not regurgitate.
Cheer number three.
OK I admit it not all fat girls have curves.
EAT! EAT! EAT more fucking meat!
Cheer number four.
C'mon stick boy hoist that hot hammed armed hunny!
Good food good meat good lord let's eat!
Cheer number five
EAT it up, and up, and up, and up, and up
EAT it up (clap, clap)
EAT it up (clap, clap)
Cheer number six
BBW cheerleader show the opposition what they are in store for!
I am fat. Give me space. If you don't I'll squash your face.
Cheer number seven.
If the cheerleaders are this big the team must be enormous!
Big fat arms big fat butt FOOD SLUT FOOD SLUT SLUT SLUT SLUT
Cheer number eight
Prudish skinny cheerleaders shiver while fatling struts her stuff.
Rubba dub dub gimme some grub and a Quiznos twelve inch sub!
Ben & Jerrys Burger King EAT EAT EAT chicken wing!
Cheer number 9
Plump piglettes pose with pom poms after eating bon bons
OOOMPA OOOMPA fat girl tons and tons of fun when you are finished eating we have just begun.
Cheer number 10
Chubby Cheese heads heading for num num nuptuals
Wacka wacka cheese & crackers sis boom bah! Feed me some ice cream RAH! RAH! RAH!
Chee

r

number 11
Proud Pod of Pudgy Pom Pom Pigs!
We are fat! We are mean! We don't need

no

lean cuisine!
Cheer number 12
Sexy sow sistas sizzlin
Watermellon Watermelon plate of ribs. Mac and cheese at our cri

bs.
Cheer number 13
650 pounds of pure womyn
Fat in the belly fat in the can hate that hate that hate that man!
Cheer number 14
Plump pretty porker with pom pom
Peanut butter eat it from the jar.... CANDY CANDY CANDY

BAR!
Cheer number 15
Anorexic angels to weak to stand
Ugly Ugly SKINNY SKANK now the fat

boys monkey spank!
Cheer number 16
Santa's Skinny Sluts Fat Men Love Stick Women
Merry Christmas Hap

py New Year Doritos Eggnog Bottle of Beer!
Cheer Number 17
Hot and Hungry Pretty in Pink
Were on offense RUSH RUS

H RUSH Sit on a skinny guy CRUSH CRUSH CRUSH!
Cheer number 17
Emaciated skin and bones
Skinny Skinny Skinny Skank Fat Boy Fat Bo

y WANK WANK! WANK!!
Chee

r number 18
Fat Cheerleader Showing Skinny Cheerleader How to Feed Her Face
S

it at the table sit on the floor feed me feed me more MORE MORE!
Cheer number 19
Fat Cheerleaders intimidate the opposing time because they may put on a helmet and pads and go in the game!
Fat admirers may be pervs but we're real women

. We have curves.
Cheer number 20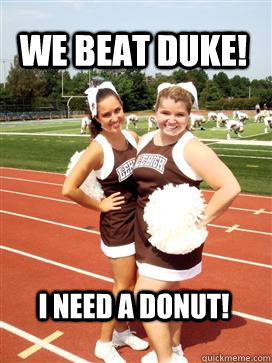 Chuck that carrot. Chuck that beet!

Real women need real food to EAT!!!