Mariellen (aka vesta44)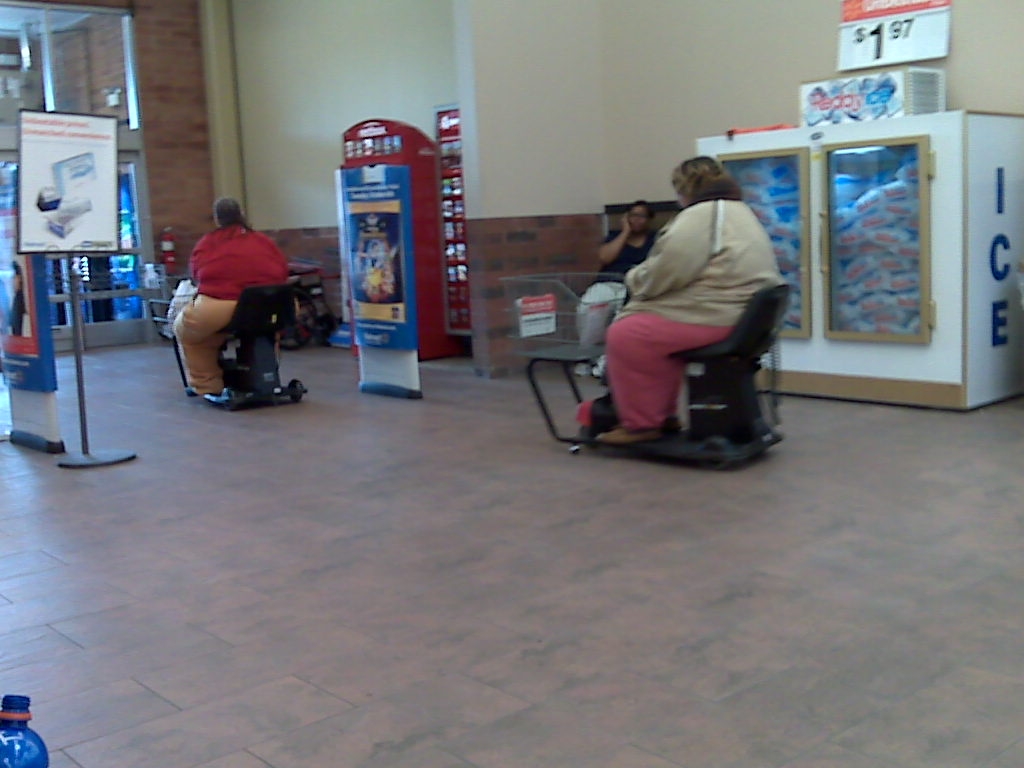 Monday, July 22, 2013
Mobility Scooters Increase Ability to Get Out And Participate in Life!
by Vesta 44
I
posted last year about getting a mobility scooter (
I
bought the Pride Maxima). We ended up buying a hydraulic lift to get the scooter in and out of my minivan (
I
have a 2008 Kia Sedona). That lift was well worth the money, let me tell you.
I've
used
my
scooter more in the last 4 months since we got the lift than
I
did in the whole year
I
had the scooter before we got the lift. We had ramps to load/unload the scooter (before we bought the lift), but I couldn't help DH push the scooter up the ramps, over the lip at the back of the van, or into the van (the scooter bottomed out on the lip and the wheels were almost useless for moving it until you got it all the way in the van). And getting it out of the van was just as bad.
I researched lifts online and the one we settled on goes in the back of the van. We lost the use of the third row of seating, but we seldom used it anyway (and it's stow'n'go seating, so we didn't have to take the seats out of the van, just folded them into the floor and had the lift installed on top of them). DH loves the lift and says we should have gotten it at the same time we bought the scooter (I agree). It's so easy to use, and I can unload and load the scooter by myself, which really increases my ability to go places alone that I normally wouldn't be able to (on bad days, I can use my scooter for doctor appts, and I couldn't do that before the lift).
Since we've gotten the lift, I've been able to go shopping at the malls in St Cloud - and yes, one of them does have mobility scooters that you can use, but you have to be able to walk to customer service, which is not anywhere close to the mall entrance. Kind of defeats the purpose of having scooters for disabled customers, if you ask me.
I've also been able to use my scooter when stores that have scooters have all of theirs in use (WalMart, I'm looking at you, you never have enough scooters available on weekends). I used my scooter this weekend when Sauk Centre had its Sinclair Lewis Days. I used when we went to watch the parade (it didn't go by our house this year). I used it when we went across the street to the park for the craft show and sale on Saturday, and again on Sunday when we went to the car show and to watch the water show, put on by the Twin Cities River Rats.

We're going on vacation in September, to Norfolk, VA, and plan on visiting Colonial Williamsburg. I'll actually be able to see it because I'll be able to easily unload my scooter. I'll be able to go to the base exchange with DH, and anywhere else he wants to go. I don't know where else we'll be sightseeing, but I'll actually be able to sightsee without being in excruciating pain.

The freedom that this gives me is exhilarating, and I highly recommend anyone who is hesitating on getting a mobility scooter to go ahead and go for it, whether it be a new one or a used one (depending on what you can afford or if you have insurance that will pay for one). I found out that if you buy a new vehicle, some car companies will give you a discount to have a lift installed. Of course, this assumes you can afford to buy a new vehicle (goddesses know I can't afford one).